Meet the foster carers
Over the years we have helped lots of different people from varied backgrounds foster children in Somerset. The families featured here have very kindly shared their stories with us.
Please note: the majority of the photos are of real foster carers but we do use stock photos when a foster carer does not want to be photographed.

Tristan & Luke
Tristan & Luke have been fostering with Somerset County Council since August 2019, and currently foster two teenage brothers.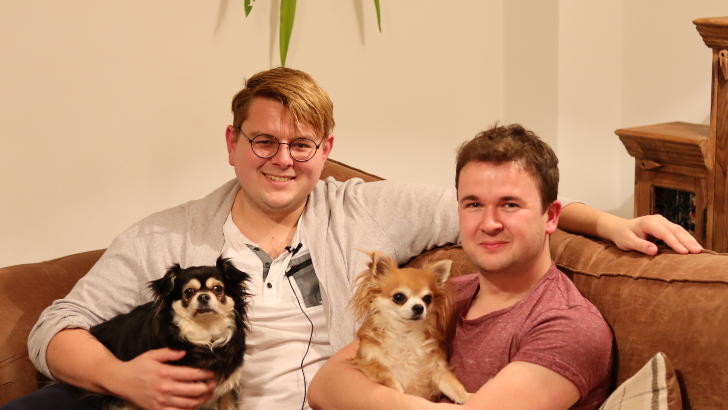 How long have you been fostering?
''We were signed off as foster carers in August 2019 after roughly a year or so of being assessed and carrying out the prerequisite background checks and training. The whole process of being approved was not as invasive as many people think and a lot of the questions were very 'common sense'. Some of the questions were emotionally challenging (for instance Tristan talking about his mums death from cancer) however they are vital for building up a picture of who we are and more importantly, what our coping mechanisms look like''.

What kind of fostering do you do?
''Initially we were approved as respite carers for weekend breaks, and for emergency placements where a child would need a bed for the night. When you're being assessed you can outline the level of fostering you would be prepared to offer and we were both in full time employment at that time. You can always change this as you develop as a foster carer however.
Our first placement was a four year old who needed a bed for the night. He was very confused about why he was staying with us and told us his mummy and brothers had 'gone away on an adventure'. With that in mind, we made his stay with us 'an adventure' by putting up a tent in our living room to watch lots of Peppa Pig in!
Our next placement was a 16 year old teenager who again needed a break. He stayed for a few days and then came back for a week. Much of the time he wanted to be left to himself which was fine, but we still tried to include him with things like picking a film for the evening and a takeaway.
Our most recent placement again started as an emergency placement – two brothers aged 11 and 12 – who needed somewhere safe for a few nights. Tristan was out of work at this time, so we were able to offer more stable on-going care to support them whilst life at their home was assessed. Unfortunately, the situation at home didn't improve and eventually the decision was made that the boys needed to move into permanent care. Having built up a bond with them, we leapt at the chance and two years later, the same boys are still with us and as much a part of our family as anyone''

What did you do before you were both foster carers?
''Luke worked in animal management and teaching at a local college, whilst I (Tristan) worked in Human Resources. The intention was that if fostering went well, one of us might consider doing fostering full time and this would most likely be Luke. Fate seemed to make this decision for us however, because when I just happened to be out of work, we had two amazing boys placed with us who also had the potential to become long term placements. Seeing how they completed our family and made us whole, we decided to suspend my efforts to return to work in order to facilitate them staying with us long term.

What made you decide to foster?
''As an LGBTQ+ couple, we had discussed having a family and what routes we could consider to achieve that. It was the typical on/off conversation, until one day I came home to find a fostering brochure on our coffee table that Luke had 'accidentally' ordered! We talked about it some more and we thought that fostering had the potential to tick the boxes of everything we wanted: a family life, some support and guidance, financial assistance, and it would make a difference to the lives of children who genuinely needed it. It all presented itself as the right choice for us as a family''.
What's it like fostering as a young LGBTQ+ couple?
''Being a younger gay couple in our thirties, our boys view us as being a bit of a hybrid between parents and older brothers, so sometimes exerting the responsibility that comes with parenting can be a challenge. Early on we had to establish a bit of a 'good cop/ bad cop' routine, so the boys could gauge when they were in trouble and the scale of it. Generally Luke plays the 'good cop' (or as I view it, the peacemaker) because as the full time carer, I spend more time with the boys and have to reinforce expectations much more frequently.
Being an all-male household we also don't have gender defined roles or preconceptions in our house, and we teach our boys that concepts like responsibility, maturity, friendship and love don't have genders and should be felt be everyone''.

How have the children placed with you responded to your being an LGBTQ+ couple?
''Honestly, it has never once been an issue. Seriously. I'm not just saying that. Being gay is way less of a concern to our boys then if say we were going to disconnect their PlayStation from the WiFi! Even when they're upset or angry with us, we've never endured any kind of homophobia from them. In fact by living with us, they appreciate the diversity of people. They have both attended Weston Pride with us for example, and when given the option of if they wanted to attend again, they both said they would like to because they want to spend time with us. To a child, the content of your heart is much more important than your identity. Well, that and Wifi!

You have two dogs. How were the dogs assessed during your application to become foster carers?
''Our two dogs (Chihuahuas!) are a core part of our family, so to be fair they were present at all the assessment meetings! We were asked questions about how they behave around children, have they any history that would be important from a childcare perspective and how we thought they would get on with having children in the home. To be honest, all the children we've had have always got on well with them and they love the extra cuddles. Often if the dogs are missing they can be found upstairs sat up with the children. They also provide the boys with extra comfort when needed. We have since acquired a snake and 11 chickens in the garden!''

What do you enjoy most about fostering?
Every day is genuinely different (for better or worse at times!) The training you receive as a foster carer helps prepare you for some of the more challenging cases, but there are lots of situations which arise that are totally unique. There are times that test your patience, just like any child, but there are lots of times where you see that young person take a small step forwards. It might be something as simple as them saying 'please' when asking for a drink, or showing a small amount of self-reflection or empathy whereas before they couldn't because of what they've been through. Seeing that growth and development in them.. ..it's a truly amazing feeling. If you've read this far you really should consider picking up the phone, or calling Fostering In Somerset for an initial chat. You're not committing to anything by showing an interest or finding out more''.

What one piece of advice or information would you of found helpful when you began your fostering journey?
''Have patience. If a child gets angry with you, ask yourself 'What are they really angry about?' because 9 times in 10 it won't be you, even if they make it about you. Fostering is similar to carving a sculpture. It takes time, patience and sometimes you've got to look beneath the surface to see what could be. The end result will be worth it, and you really can make a difference''.